2023 Intersquad Game Oct 8th – Seeley/Wicker 16U VS Mick 16U – Recap
LH 16U Teams Scrimmage and Build Depth
10/8/2023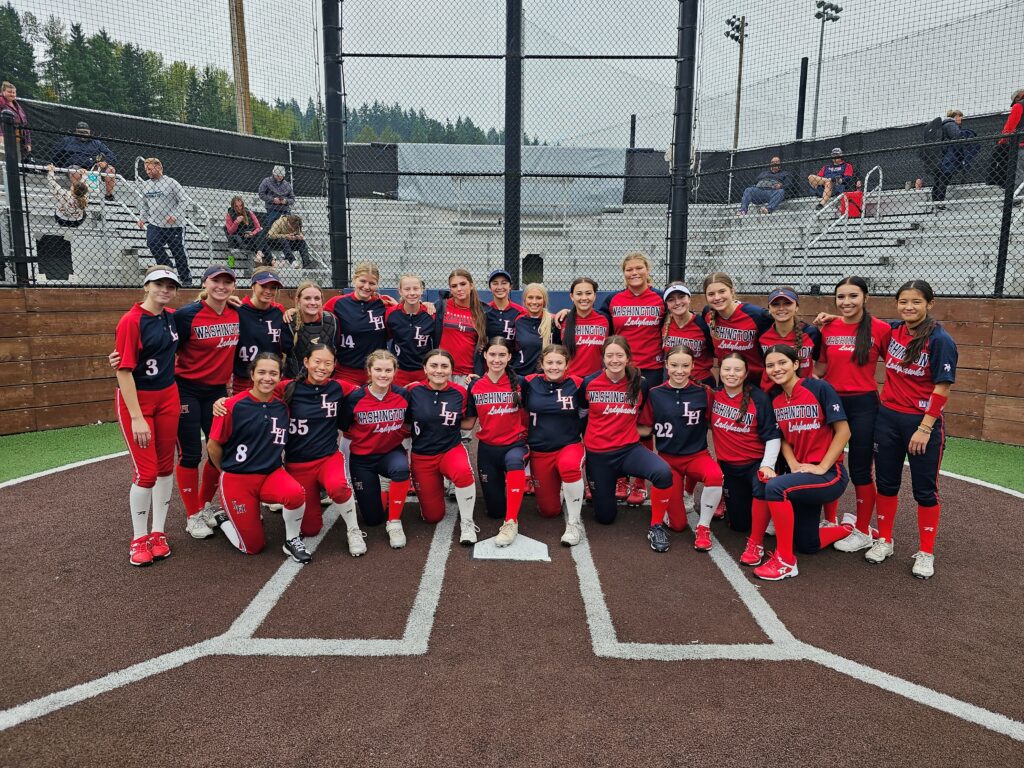 Auburn, WA – As planned 16U Seeley/Wicker and 16U Mick met up on the Auburn Riverside field on a cool foggy fall northwest morning with the intent to build a depth of experience in pressure situations through repetition in a game-like setting meant to push beyond the normal comfort zone of practice.
In true Ladyhawk fashion players and coaches gathered in the parking lot early excited to see each other and share the latest round of homecoming stories and get focused on the tasks for the day.  On this day players were surprised with to find coaches show up with trunks full of brand-new Ringor cleats and turf shoes for everyone, and they were well received as many have been anxious to replace the existing well-used models that had already endured a years' worth of battle.
Families and fans filtered into the Raven's Softball Complex as the players completed their warmups and the coaches for both teams prepared for the day predetermining objectives, planned situations, and exchanging witty banter.  A combined high bar for details and execution meant to prepare teams for a high level of national play paired with light hearted fun has long been a combination that has made the Ladyhawks great for decades.
Both teams came out strong and hit runners in scoring position right away in the 1st inning, but defense on both sides did a great job of holding each other scoreless.  "Right away this felt like a game day atmosphere", Coach Greg Seeley told reporters after the event, "It was a highly effective scrimmage.  Both sides came out with a high level of energy and communication in the dugouts and on the field right away.  Really with that kind of engagement that allows us coaches lead conversation on improving on the details and seeing immediate improvement on the field.  It's enjoyable to be around a group that is this coachable."
Baserunners were continually moved around to keep defenses under pressure with an emphasis on action situations so batters could gain valuable experience executing in key moments.  This kind of experience should prove invaluable as these two teams head into showcase tournaments this fall.
"As I finished my coffee and Captain Crunch this morning I started to get really excited about the day knowing both teams would bring it and match up well as they did the weekend before", Coach Shaun Mick reflected.  "Today did not disappoint!  It's great to see the competitive spirit and hustle brought to the diamond today by both teams".
Players were asked to play situational softball and found themselves pitching to the defense, bunting, or more aggressive on the base paths then normal given the directive that we are trying to find the edge of what's possible.  Playing full out and making it ok to fail as long as players were failing as hard as they could.  Even in this environment we saw stand out moments both on offense and defense for both teams.  Third baseman Lauren Hufford laid out to secure a pop-up to slow a surging offense in the 6th inning.  Elle Sexton blasted a 2-run homerun and Kenzie Stolmeier smashed a 3-run homerun in a late inning surge.  Both homeruns came on the heels of close plays that could have allowed momentum away from their team, but quickly swung momentum back in their favor.  Newly added lefty catcher Hazel Abbott  also showed off her athleticism Sunday afternoon bursting up the 3rd baseline and laying out in a full stretch to catch a foul ball with the bases loaded.
"Mission Accomplished" Wayne Miller, President of Washington Ladyhawks chimed in via virtual call.  "We love seeing this and is really the benefit of having an org with strong at each age group and great coaches willing to commit to the player development process and deliver a high level of instruction.  These ladies came out and worked on exactly what we wanted and gave their coaches a good look."
The Ladyhawks program kicks off their winter training org programs inside at Big League Edge mid October to get a head start on winter programming and to find benefits while competing this fall.  Wayne continued, "We have plans to bring groups of players together for skill development and details, but also to compete just like this in a situational setting and let instincts take over.  I am proud to see these athletes come out and compete hard.  Kudos to Coach Seeley and Coach Mick for getting an early start, there's nothing like getting to compete outside and today turned out great.  Also, thanks to Coach Muxen for securing this great field."
Coaches from both teams commented on how valuable the experience was and are already booking additional dates in the near future for more opportunities like today.
#YeahHawks