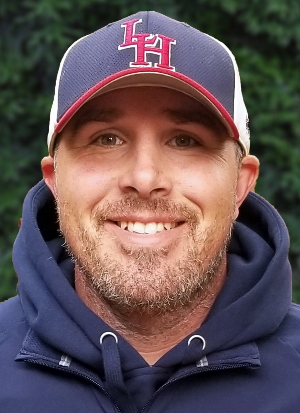 16U Team Seeley/Wicker | Assistant Coach
Entering his 5th season with the Ladyhawks organization, Justin is currently an assistant coach at the 16U level but has spent time coach within Ladyhawks at 14U and 12U.  He also serves a dual role as Catching Coordinator for all levels within the org and brings a passion for learning, player development, holds a high bar for energy and effort, and takes time to connect with athletes to make sure they have what they need to reach their goals.
As a high school athlete Justin was an 8-time letterman in Football, Basketball, and Baseball leading the Inglemoor Vikings to KingCo Championships in multiple sports, earning All KingCo honors as a Quarterback and a Catcher, and set school passing records on the football field.  Summers were spent on baseball fields across the Northwest playing for Food Giant Baseball.  After high school Justin earned 1st Team NWAC as a catcher at Walla Walla Community College and lead the league in home runs while tying a school record, boasting two games six days apart where he hit three homeruns in a single game.  Earning a scholarship to play PAC 10 baseball for Washington State University as a catcher, Justin completed school with a dual major in Computer Science and Business Management and finished playing semi-pro baseball for the Bellingham Bells.
Transitioning into coaching Justin has a combined 12 years of coaching youth and high school baseball for Little League, Kirkland Merchants, and New Level Baseball.  He has coached fastpitch for 10 years within Little League, Flame Fastpitch, and the Ladyhawks organization.  He has also has 4 years of coaching youth tackle and flag football.
Professionally Justin has just celebrated 20 yrs within the Seattle Mariners baseball org and currently serves as the Sr Director of Engineering & Development within the Technology Services department.
justin.stolmeier@ladyhawksfastpitch.org