2023 Flame Invite 18A – 16U Seeley/Wicker – Gold Bracket Champs
16U Seeley/Wicker Bringing Home Hardware from First Tournament of the Fall
9/23/2023 – 9/24/2023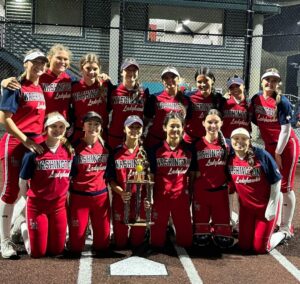 Everett, WA – 16U Seeley/Wicker wasted no time announcing their presence during their kick off tournament to the fall season at the Flame Fastpitch Invite 18A Division held at Phil Johnson Fields, and are bringing home hardware from a 1st Place finish in the Gold Bracket to prove it.
Outscoring opponents 42 to 16 on 54 hits and 26 extra base hits totaling 18 Doubles, 5 Triples, and 3 home runs across 6 games and drawing 24 walks with only 16 strikeouts.  As a team they tallied a combined .415 batting average and 1.170 OPS.
Michelle Arimura – 2025 and Elle Sexton – 2025 were both perfect on Sunday's combined match ups both batting 1.000 across a combined 9 AB's across 13 Plate appearances over 3 games responsible for a combined 9 hits, 3 doubles, 1 home run, 4 walks, 5 RBI's and crossed the plate 7 times.  Both players finished the tournament hitting higher than .700 batting average.
Makenna Lysene – 2026, Reese Westman – 2026, and Shyanne Cruz – 2026 all recorded batting averages over .500.  These 3 combined for 14 hits with 8 extra base hits 5 coming as doubles and 3 as triples.
Taylor Henry – 2025 and Ashlyn Harlos – 2025 both checked in with batting averages higher than .400.  Ashlyn was hitting .800 after day one recording a 4/5 day with 3 doubles, while Taylor showed her consistency at the plate.
Kolbi Schmer – 2026, Kenzie Stolmeier – 2025, and Elle Sexton – 2025 are the first members of the bomb squad this season.  Kolbi hit a 3-run bomb in our first game in her first AB of the season.  Kenzie hit a 2-Run go ahead homer early in a Saturday night lights game hitting in the 2 hole in the bottom of the 1st inning.  Elle blasted a solo go-ahead homer to kick off the bottom of the 2nd inning in our first game of the day on Championship Sunday.
Ladyhawk pitchers shoved extremely well throughout the tournament throwing a combined 53 strikeouts and only 10 walks while giving up only 12 earned runs and leaving 28 runners on base.
Abby Edwards – 2026 threw 22 strikeouts on the weekend over 11 innings and allowed only 3 earned runs.  Ashlyn Harlos – 2025 tallied 20 strikeouts and only 1 walk with only 5 earned runs across 12 and 2/3 innings.  Gabby Greenwood – 2026 came out dealing a hot hand out of the gate on Saturday throwing 5 strikeouts across 2 innings with no walks and only 3 earned runs.
Pitchers and catchers throughout the tournament are already showing mid-season form as several battery combinations were presented and still tallied 17 backwards K's which accounted for 33% of strikeouts over the weekend.
"This team is special.  To come out firing, showing confidence with the bats right off the get and not backing down the rest of the weekend was fun to watch." Coach Greg Seeley spoke of his squad after the event.  "Next player up, pass the bat mentality.  Our pitchers came prepared and ready to go and the offense backed them up."
Coach Jess Wicker was all smiles after the championship win Sunday night.  "It's late and I've got an early morning, but there is no place I'd rather be right now then here celebrating the way this team prepared and came out with energy and communicated with each other.  It's not common to have that kind of chemistry this early in the season and you can see the team coming together.  Going to celebrate this one tonight and get back to continued development of our team with our end of year goals as top of mind".
Tournament Schedule:
Sat 23 – WA Acers Jones 18U – W 11-0
Sat 23 – WFA 18U Grutz – W 7-6
Sat 23 – NW Grapettes Parker/Dow – T 3-3
Sun 24 – WA Acers Liljenberg – W 3-0
Sun 24 – NW Grapettes Parker/Dow – W 9-4
Sun 24 – Maniacs Garcia – W 9-3
Notable Kudos:
Jenny Brown from Washington Fastpitch Academy 18U Grutz and Avery Grutz were both tough outs recording multiple hits each including a homerun for Jenny and a hard hit double by Avery.  Kudos to your effort at the plate.
Cece Brown from Northwest Grapettes Parker/Dow 16U team was a tough out in the 4 hole hitting 2 doubles and finishing 3 for 5 with only 1 strikeout across 2 games.  Maddie Wood and Bella Torres also each had a well struck solo home run, and Bella finished 2 for 3 including a double and a stolen base. Kudos to you three.
Aryn Sloot and Sydney Hogan from Mizuno Maniacs Garcia team each had strong outings at the plate.  Aryn finished 2 for 3 with a double and Sydney blasted a solo line drive homerun.  Kudos to you both.
#YeahHawks