2023 USA Oktoberfest 18A – 16U Seeley/Wicker – Recap
10/14/2023 – 10/15/2023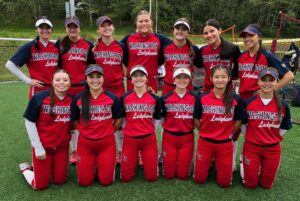 Everett, WA – For the third time in 4 weeks the 16U Seeley/Wicker squad finds themselves back in Everett playing at Phil Johnson fields, this time for the 2023 Oktoberfest in the 18A division.  Living up to the name the weather really felt like fall … sunny and a warm 65 upon arrival turning quickly to overcast and steady rain showers to kick off day 1 and showing up to continued rain on day 2.  The squad came out hot on Saturday on both sides of the innings delivering strong run support on offense and holding teams to low scoring opportunities on defense, but fell short on Sunday afternoon falling out of the tournament after coming out flat the first game of the day.  While the lack of energy in the first few innings was disappointing the team did bounce back the last half of the game, but ultimately it was not enough to make up for early miscues.
Adverse weather is familiar territory for Greater Seattle native Ladyhawk players as they have grown up needing to learn how to survive playing in conditions ranging across the full spectrum with rainy, wet, cloudy, foggy, and often numbing cold conditions on one side and scorching, humid, dry, dusty, hot conditions on the other as they travel around the country to compete.  NW players have adapted equally to learning how to hydrate, refuel, stay dry, stay cool, stay warm, and compete and excel in any adverse conditions thrown their way.
Abby Edwards – 2026 showed this kind of resilience to weather on day one of the tournament, putting on a display with 2 huge home runs, a double 2 feet off the top of the fence, and a 10 strikeout shutout performance in the circle that was as comforting, confident, and exciting as enjoying a Pumpkin Spice Latte of a cool fall day.  Lily McCormick – 2025 on the other hand continued her dominance at the plate coming out hitting .600 on day one with a double and a TOWERING homerun that traveled up to the flat part of the hill landing bout 265 ft from the plate with a bat flip that felt more like chugging a large Monster energy drink delivering the kind of charge to the team that could bring life to Frankenstein.
"I have been coming to tournaments here at Phil Johnson for A LOT of years and I have never seen anything like it", Coach Jess Wicker was heard saying in the moment and to the team after the games on day 1.  "That was something special, Lily you crushed that ball.  That will be something people talk about for years".
Outscoring opponents 25 to 9 in 4 games on 31 hits and 14 extra base hits totaling 11 Doubles and 3 home runs and drawing 9 walks.  As a team they tallied a combined .337 batting average and .950 OPS.
We had 8 different players check in with an extra base hit over these 4 games: Kenzie Stolmeier – 2025 with 3 doubles, Lauren Hufford – 2025 with 2 doubles, Lily McCormick – 2025 and Abby Edwards – 2026 each tallying a double and a homerun, and Michelle Arimura – 2025, Shyanne Cruz – 2026, Taylor Henry – 2025, Reese Westman – 2026 each showing power at the plate.  Taylor Henry – 2025 checked in with a 2 out bases clearing double to right field scoring 3 to cap a 7-run 3rd inning for the Ladyhawks Saturday night under the lights. Taylor's double came within minutes of an incredible diving play from her 2B position that took her to her right, she had a full layout to her right up the middle gloved the ball and threw the runner out at first and lit a spark in her team heading into that 3rd inning burst of runs.
Three players finished with batting averages over .500, and 2 over .400.  Lily McCormick – 2025 led the Ladyhawks in hitting finishing with a .571 AVG, 1.768 OPS, 1 BB, and 4 hits.  Kenzie Stolmeier – 2025 finished with a .556 AVG, 1.489 OPS, 1 BB, and 5 hits.  Shyanne Cruz – 2026 with a .500 AVG, 1.183 OPS, 2BB, and 5 hits.  Lauren Hufford – 2025 and Abby Edwards – 2026 each finished hitting a .444 AVG on 4 hits and 1 BB.  Honorable to Reese Westman – 2026 who finished hitting .375 with 3 hits in key moments including a hard double.
Ladyhawk pitchers challenged batters this tournament throwing a combined 30 strikeouts, with 9 caught looking, while giving up 10 walks on the weekend and leaving 19 runners on base in 20 innings pitched across 4 games.  The pitchers did a great job of challenging hitters and letting the defense clean things up behind them and the defense understood the assignment.  Taylor Henry – 2025, Reese Westman – 2026, and Lexi Page Best-Arnold – 2025 were seen making several hustle plays up the middle.  Lexi, Reese, and Gabby completed a 4-6-3 double play to finish the 2nd inning of Game 2 on Saturday.  In game 1 Lauren Hufford – 2025 kicked off a great double play in the bottom of the 2nd fielding a hard hit ground ball pushing the runner back to 3rd before throwing to Lily at 1B who fired the ball to Kenzie at home to tag out the advancing runner at the plate in a rare 5-3-2 double play to finish the inning.
Gabby Greenwood – 2026 shined in the circle on a wet Saturday night under the lights shoving 9 strike outs while only giving up 2 BB, 3 hits, and 2 earned runs over 4 innings.  Abby Edwards – 2026 was brilliant this weekend hurling 16 strikeouts across 11 innings including 6 caught looking while giving up only 5 walks and 2 earned runs.  A great outing on Sunday was marred by an extremely wet Sunday afternoon which contributed to 3 untimely wild pitches and adverse playing conditions which made for a handful of soft popups between the infield and outfield more difficult to complete as an out than normal ultimately.
"Errors happen, that's part of this game."  Coach Greg Seeley told reporters after the game.  "There are mental errors and physical errors and our task is to make sure we show up with the right mindset to play the game inside the game and reduce the chances of mental errors.  At this 16U level we expect our athletes to know how to come prepared, we have some work to do there.   We will continue to advance this winter and push ourselves physically so we can react and reduce physical errors.  Today we came out flat and it showed … we played great overall this weekend, but need to learn to execute on championship Sunday".
Tournament Schedule:
Oct 14 – South Sound Boltz 18U – W 8-0
Oct 14 – Whatcom Wolverines 18U – W 6-3
Oct 14 – Diamond Dusters 18U – W 9-2
Oct 15 – Bandits 16U – L 2-4
Notable Kudos:
Kailee Pearson from South Sound Boltz had a hard-hit triple down the RF line and Kyndal Koski made several hustle plays on defense in the shortstop position.  Kudos to you two.
  Reese Anderson from Diamond Dusters 18U made some great plays at the shortstop position laying out in the first inning to secure an out.  Kudos to your hustle on the field.
BOMB SQUAD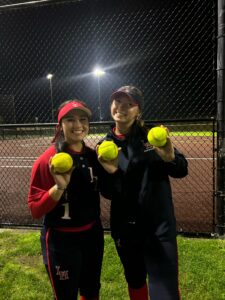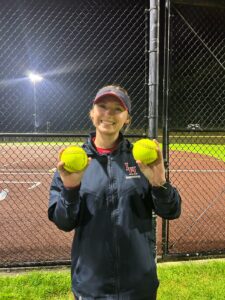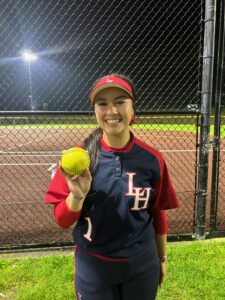 #YeahHawks