2023 USA Softball Gold and Alliance Qualifier 16A – 16U Seeley/Wicker
9/30/2023 – 10/1/2023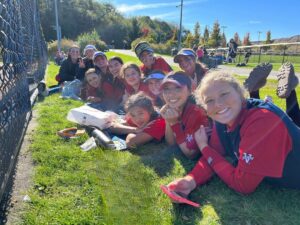 Everett, WA – The 16U Seeley/Wicker was back at Phil Johnson this weekend for the 2023 16U USA Softball Gold and Alliance Qualifier.  Leading off with a forfeit left for a quick Saturday effort as teams with 2 wins only played 2 games.  This was an unusual tournament bracket, double elimination, but there was no path back to a championship game from the loser side of the bracket.  After 5 games and 1 forfeit it appears as though we tied for a 3rd place finish, but in good company as we share that title with the 16U Mick squad.
Outscoring opponents 41 to 16 on 42 hits and 23 extra base hits totaling 17 Doubles, 7 Triple, and 5 home runs across 6 games and drawing 13 walks.  As a team they tallied a combined .326 batting average and .974 OPS.
Michelle Arimura – 2025 finished the tournament with a .700 batting average hitting 7/10 with 4 doubles and a 2-run homerun on Championship Sunday.  Kenzie Stolmeier – 2025, who happened to blast a solo homerun 6 pitches later, held the 2nd highest batting average of the weekend hitting .625, hitting 5/8 with 1 double and a walk.
Kaila Siu – 2025 and Kolbi Schmer – 2026 both hit over .400 totaling 4 doubles and 1 triple combined.
Shyanne Cruz – 2026 hit 2 doubles and racked up 5 stolen bases.
Abby Edwards – 2026, Lily McCormick – 2025, and Michelle Arimura – 2025 all join in on the bomb squad after this weekend.  Elle Sexton – 2025 and Kenzie Stolmeier – 2025 also check back in reinforcing their membership to the club.  Abby and Elle checked in on Saturday afternoon, while Lily, Michelle, and Kenzie stamped their membership card on Sunday.
Ladyhawk pitchers challenged batters this tournament throwing a combined 30 strikeouts, with 11 caught looking, and only gave up 5 walks on the weekend and leaving 22 runners left on base.
Ashlyn Harlos – 2025 shoved 13 K's over 8 Innings.  Abby Edwards – 2026 threw 11 K's over 12 innings only allowing for 3 earned runs. Gabby Greenwood – 2026 tallied 0 earned runs on only 3 hits over 3 innings.
Coach Greg Seeley was proud of this team after the event.  "When your team comes out hitting like we've been and runners continue to stay aggressive on the base paths this game can be a lot of fun."  The coaching staff all chimed in on the value offense brings to a team, but all agreed that a high premium on defense makes the difference.  "Our pitchers did a great job of making their pitches and giving us as chance to win each of these games.  Kept our team in the game by keeping free bases low and strikeouts high and our defense cleaned up the rest."
Tournament Schedule:
Sat 30 – Mound Time 16A Rethwill – W 7-0 (Forfeit)
Sat 30 – Giants Fastpitch – Pinder – W 12-0
Oct 1 – WA Ladyhawks 16U – Mick – L 4-6
Oct 1 – Fraser Valley Fustion 07A – W 5-1
Oct 1 – Oregon Blaze 16A – W 6-5
Oct 1 – Cloverdale Fury 07A – W 7-4
Notable Kudos:
Kaitlyn Vasquez from Washington Ladyhawks 16U Mick and Alexa Ramirez.  Kaitlyn Hit a grand slam to come back and give her squad the lead.  Alexa went 2 for 2 with a double and a stolen base.  Kudos to you two.
  Samantha Blanchly from Oregon Blaze 16A crushed a 2-run homerun to put her team up by one in the middle of the game.  Kudos on a great at bat.
#YeahHawks